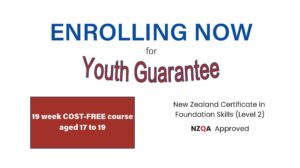 This programme is intended to assist people to engage or re-engage with learning in order to enter the workforce or further education. 
It is designed for students whom have left school without their NCEA Level 2 (or equivalent) qualifications and are now seeking career pathways to pursue.
The aim of the programme is to provide people with entry level skills to meet the current and future high demands of security and customer service industries. After students completing their study, Tree House helps graduates to obtain employment or further education to use and reinforce the learning they have achieved.
Programme duration: 19 weeks
Cost: Free
Delivery sites:
Entry requirements:
All applicants must:
be a New Zealand citizen or permanent resident
be 16 to 19 years of age at the time the programme commences
able to read, write, and communicate in English at a basic level
be physically able to complete programme-specific outcomes
Tree House will carry out a pre-enrolment interview to determine applicant's suitability to enter the programme.
Qualification and outcomes gained:
New Zealand Certificate in Foundation Skills (Level 2) 
holders of this certificate may progress onto New Zealand Certificate in Security (Foundation) Level 3
graduates will be able to enter security, customer service and other areas of employment
Programme Content:
Programme content includes developing skills in applying communication skills, customer service, and health and safety practice necessary to work in both general workplaces and in conflict situations in a security context.
Students will also learn how to explore career options and developing skills and productive personality traits to build constructive relationships at work and at home.
These skills include social graces, career planning, literacy and numeracy skills, presentation skills, self-management and resilience, time management, team work and leadership traits. The educational component is designed to allow students to achieve learning outcomes effectively.
On-going support will be provided to programme graduates to have a clear understanding of career opportunities and setting goals, toward achieving sustainable employment, or to enter into higher education.
Enrolment is open now, with a limited number of spaces, so apply as early as possible.  
Or, contact us Email: info@treehouse.org.nz
                             Phone: O800 50 8733
The programme is approved by the New Zealand Qualifications Authority under section 439 of the Education and Training Act 2020, and Bernard & Ya Holdings Limited is accredited to provide it under section 441 of the Education and Training Act.
Kua whakamanatia tēnei akoranga e te Mana Tohu Mātauranga o Aotearoa i raro i te wāhanga 439 o te Ture Mātauranga me te Whakangungu 2020, ā, kua whakamanatia hoki a Bernard & Ya Holdings Limited ki te whakahaere i taua akoranga i raro i te wāhanga 441 o te Ture Mātauranga me te Whakangungu 2020.